Please note that there will be no North America Panorama this week due to the Fourth of July holiday.
Thursday's EIA report (week ended 28 Jun) – EA Final Estimate: +83 bcf
We forecast tomorrow's EIA report will show an injection of 83 bcf. Total demand grew by 2.8 bcf/d w/w to 81.2 bcf/d, with power burn shooting up by 2.6 bcf/d w/w on a 25% rise in national pop-weighted CDDs. LNG feedgas demand also increased w/w, by 0.3 bcf/d, with Corpus Christi responsible for the growth as flows indicated its second train was running close to full capacity.
Total supply growth of 0.6 bcf/d w/w was not enough to stop the 15 bcf w/w fall in the total injection rate. The supply increase was the result of production growth of 0.3 bcf/d w/w, with Appalachia receipts up by 0.2 bcf/d w/w, as well as a 0.2 bcf/d rise in net Canadian imports after a force majeure on the Alliance Pipeline that stifled Western Canadian imports ended on 24 June.
Next Thursday's report (week ending 5 Jul) – EA Estimate: +75 bcf
The injection rate will continue to slide as summer progresses, with a projected 75 bcf injection in the current week. Power burn is forecast to grow by 3.1 bcf/d w/w on a further 30% spike in pop-weighted CDDs, as much of the Northeast and Midwest endured early-week highs above 90°F—as much as 10°F above historical norms.
Revisions to the weather forecast over the weekend have capped our projection for power burn. An expected late-week cooling trend in the Northeast, with temperatures in New York forecast to be in line with historical norms in the high 80s°F by 3 July, has dampened early week estimates that called for 40% w/w national CDD growth and an accompanying 4.0 bcf/d w/w jump in gas power demand.
We project LNG feedgas demand will help lift total demand by 0.3 bcf/d w/w. A full week of flows to Corpus Christi T2 will see its intake grow by 0.2 bcf/d w/w, while Cameron is likewise on track for a feedgas increase of 0.1 bcf/d w/w as it continues to move towards commercial start-up.
The midweek Fourth of July holiday will dampen industrial gas demand by 1.4 bcf/d w/w.
We project total Lower 48 production will rise by a further 0.3 bcf/d w/w to 87.9 bcf/d. Appalachia will again be responsible for 0.4 bcf/d in w/w growth, to a projected average of 30.9 bcf/d. Regional output topped 31.0 bcf/d on 29 June for the first time since late February. This will be slightly counterbalanced by a 0.1 bcf/d w/w decline from GoM receipts.
Canadian net imports will grow by 0.9 bcf/d w/w. The Northeast heat will flip flows w/w through the Waddington border point from net US exports to 0.3 bcf/d of net imports, while a full week of Alliance flows will contribute an extra 0.6 bcf/d of Canadian gas w/w.
Fig 1: Regional flows and fundamentals model, bcf
Source: Energy Aspects
Fig 2: Balance forecasts, bcf/d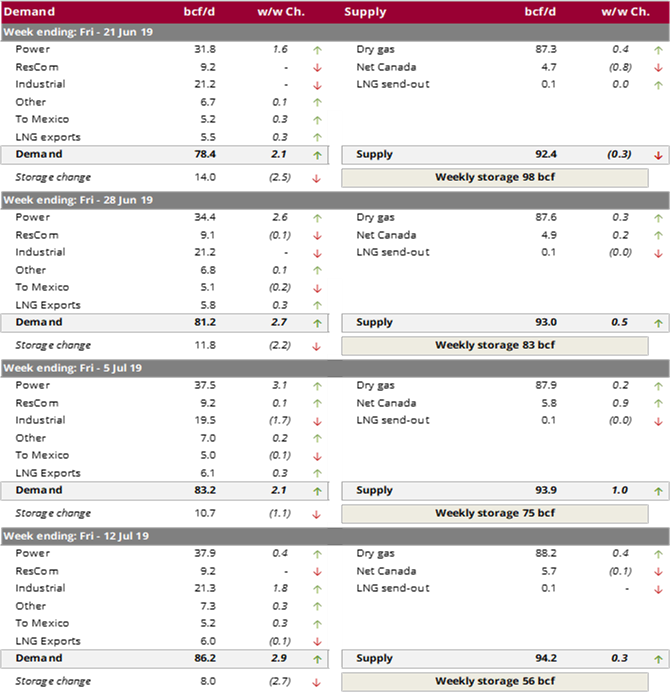 Source: Energy Aspects