The latest round of earnings calls from publicly traded US gas producers points to slowing gas production growth in 2019. The firms in our sample estimated growth at 1.3 bcf/d y/y from a base of 23.1 bcf/d. That 6% y/y growth is less than the 9% initially projected for 2018. For our full sample of 51 public producers, Q4 18 production was up by 3.9 bcf/d y/y (12%) and 0.7 bcf/d q/q (2%). Our balances point to 7.2 bcf/d (9%) in y/y growth in 2019. The growing role of private producers (which are not included in our sample) and the high percentage of hedged volumes in Appalachia drive this forecast.
Our sample of producers is more hedged for Cal-19 at 60%, an increase of 4% y/y and a weighted average swap price of $3.00/mmbtu, a decline of $0.14/mmbtu y/y. Cal-20 hedges were reported to cover about 25% of production at a weighted average swap price of $2.89/mmbtu, but only about half of our sample reported such transactions.
Production results and 2019 guidance updates
Production growth for US gas is likely to slow in 2019 based on guidance from the most recent round of earnings calls. The 25 firms in our sample which publish separate gas guidance for US assets, which have a base output of 23.1 bcf/d combined, are pointing to 1.3 bcf/d (6%) y/y production gains in 2019. The projected 6% uplift is less than the 9% those same 25 companies put in their initial 2018 guidance (Fig 1). Actual 2018 results show those firms just missed their collective projection, logging 7% y/y growth. Part of the reported decline in production growth rates stems from a slowdown in the US production powerhouse region of Appalachia, where several of the country's largest producers have indicated flat growth for 2019 (see E-mail alert: Appalachian growth to slow, but still contribute to y/y US gains, 14 February 2019).
Production in Q4 18 from our full sample of 51 of the country's largest publicly traded gas producers stood at 35.7 bcf/d, growth of 3.9 bcf/d y/y and 0.7 bcf/d q/q. Proportional y/y gains of 12% matched the official EIA figure for US production, but our sample's q/q growth of just over 2% lagged the 4% recorded by the EIA.
The growing role of smaller E&Ps and private firms is evident from the share of production not captured by our survey. Output from outside our sample of 52.4 bcf/d in Q4 18 was up by the same 12% y/y, but its 5% q/q gains outpaced the combined efforts of our sample group. Our balances point to US production gains in 2019 of 7.2 bcf/d y/y to 90.6 bcf/d. While Appalachian gains may be lessening, the region's major producers are well-hedged, solidifying the likelihood of estimated output gains. Antero remains fully hedged for 2019, while CNX, Range Resources, and Southwestern have also locked in deals for 70% of their projected volumes. Private producers will also contribute a sizeable portion of new supply.
We updated our sample to account for divested assets, like CNX's Q3 18 sale of its Utica assets to private player Ascent Resources. Ascent is operating five Appalachia rigs and received the third-most new drilling permits in the region in 2018. Other private players are also angling for higher volumes in the Northeast, with Tug Hill Operating running four rigs to help account for its y/y permit jump of 60. These firms fall outside of our sample and help drive the higher projection in our balances.
Fig 1: 2019 gas production guidance, mmcf/d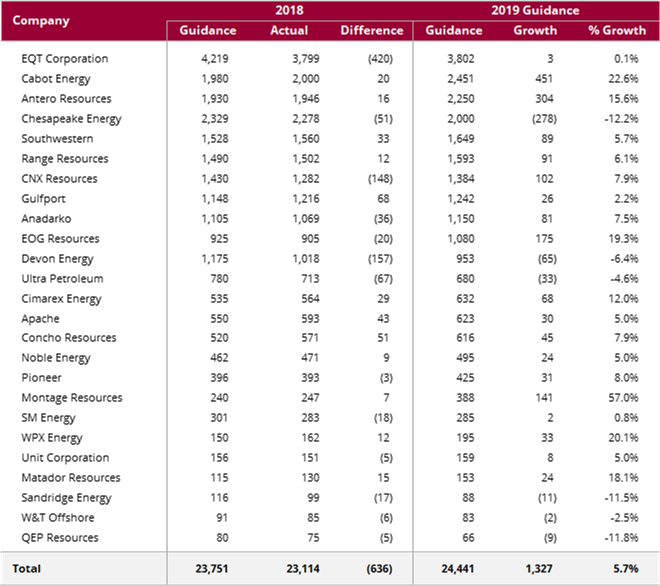 Source: Company reports, Energy Aspects

Corporate and financial issues are also weighing on guidance for several companies in our sample. EQT and Gulfport are guiding for nearly flat y/y gas production in 2019, but each is dealing with wider corporate issues that will impact allocated Capex. EQT has already called for $150 million (6%) y/y in cost reductions, and QEP Resources is likewise an outlier in our guidance sample, as financial troubles mean the company may be acquired. Even after we removed its recently divested Haynesville and Uinta assets, QEP is aiming for a y/y gas production decline of 10 mmcf/d to just 66 mmcf/d.
Regional differences are easily seen both within our group and within initial 2019 guidance. While Northeast growth is slowing, several South Central basins are moving full steam ahead. Gulfport is allocating half of its capital to its SCOOP/STACK assets after pushing 70% of investments towards Utica in 2018. Continental is adding a rig to Oklahoma as well, bringing its total there to 19 for an even split of its drilling capital (SCOOP/STACK had been 45% in 2018). The only new firm in our sample and Eagle Ford pure-player, SilverBow Resources, is aiming for 17% y/y gas growth from a base of 0.15 bcf/d. Permian-focussed EOG Resources, Cimarex, and WPX Energy are all guiding for more than 10% y/y growth. Some Permian gains will likely be concentrated at year's end, given infrastructure constraints and the scheduled Q4 18 start-up for Kinder Morgan's 2.0 bcf/d Gulf Coast Express (GCX) pipeline. Apache is among the firms with capacity booked on GCX, lifting its estimated 2019 production by 30 mmcf/d y/y to 0.62 bcf/d.
Hedging and financial outlook
The percentage of production hedged for 2019 increased as 2018 drew to a close. From our sample of producers, 60% of projected 2019 production has been hedged, a q/q increase of 6% and a y/y increase of 4% thanks to the late Q4 price rally. The higher percentage could also be driven by producers expecting the base of production to be higher y/y and therefore shielding more production from downside price risks.
The volume-weighted average price for 2019 swaps was $2.98/mmbtu, a q/q decline of $0.05/mmbtu. The fall in price comes mainly from Antero monetising some of its hedges in the last quarter, dropping its average swap price from $3.50/mmbtu to $3.41/mmbtu. However, Antero's production remains 100% hedged as new hedges were executed to replace the old ones.
Taking Antero's hedged prices away from the sample, the average swap price drops to $2.89/mmbtu. The monetisation of hedges came when the Q4 18 cold snap lifted Cal-19 prices to nearly $3.25/mmbtu. During that time, we noted how the spike in Cal price would likely spur additional hedging from producers with the ability to perform discretionary hedging in addition to their mandates (see E-mail alert: Growing the hedge, 7 December 2018).
This seems to be the case when we compare to Q4 17's year-ahead production hedges. While the percentage of Q4 18's year-ahead production hedges was 4% higher at 60% of 2019 production, the percentage of Cal-19 production hedged would be even higher at 64% if we did not include South Central producers such as Anadarko and EOG Resources, who have reported zero hedges for Cal-19 after hedging 46% and 26% of their Y+1 production respectively last year.
Enerplus and Diamondback seem to have been the most responsive during the Cal-19 price rally. After reporting zero percentage of its production hedged for Cal-19 in Q3 18, Enerplus reported 40% of its production hedged in Q4 18 with an average price of $3.20/mmbtu, and Diamondback reported 35% of its production hedged with an average price of $3.06/mmbtu. Similarly but to a lesser extent, Cabot, which had only reported 5% of production hedged from Q3 18, reported 18% of production hedged from Q4 18 with an average swap price of $3.16/mmbtu. Without using structured products, these Cal-19 price levels could only be achieved during the run-up in prices in Q4 18.
In addition to swaps, nearly half of our sample producers also engaged options structures, such as costless collars in particular, to protect cashflows. The weighted-average floor price was $2.76/mmbtu, and the weighted-average ceiling price was $3.17/mmbtu. Matador Resources seems to have the most bullish Cal-19 price view with a ceiling of $3.80/mmbtu, while SM Energy is on the opposite side of the spectrum with a ceiling price of $2.83/mmbtu. Based on the current Cal-19 price of $2.95/mmbtu and the hedged levels for most producers from our sample, producers are unlikely to enjoy much revenue gain from further gains in flat price.
As for Cal-20 hedges, approximately half of our sample has entered some kind of swap or options transaction with about a quarter of projected production hedged, nearly flat y/y. The weighted-average price of swaps was $2.89/mmbtu. Antero continues to lead the pack with the highest swap price of $3.00/mmbtu, while the average price hedged (excluding Antero) was $2.85/mmbtu. As for options, only Comstock Resources and Devon Energy have used them for hedges so far. Their average floor was $2.70/mmbtu; average ceiling was $3.22/mmbtu.
Fig 2: 2019 hedging positions, mmbtu/d
Source: Company reports, Energy Aspects