NBP and continental prices were volatile last week. An unplanned shutdown on the Forties Pipeline System (FPS) tightened supply and buoyed prices mid-week, while weather forecasts with temperatures revised higher and a softer energy complex softened contracts at the week's end.
For the coming week, we expect that aggregate supply to Northwest Europe will average 0.82 bcm/d, up by 16 mcm/d w/w. UKCS flows slowed last week owing to a shutdown on the FPS on 7 February. While that curtailment was resolved over the weekend, other outages at North Morecambe, Heimdal, and Troll have helped reduce deliveries on Monday (12 February). Flows should edge up once those restrictions ease. For the week through 16 February, UKCS flows should be up by 7 mcm/d, while Norwegian flows should be up by 4 mcm/d w/w.
We expect nominations to be supported by several more days of colder-than-average weather expected in the first half of this week. We forecast Russian flows to rise to around 0.20 bcm/d, up by 9 mcm/d. Some softening of those flows could occur once the warmer weather rolls in, but on balance, those flows should be higher w/w. 2018 has started with Russian flows to the EU generally softer y/y, as that mild January would not have supported nominations. Northwest European LNG sendout should ebb by about 11 mcm/d w/w in order to accommodate net scheduled re-exports of 86 mcm in the week through 18 February, according to Kpler. We expect Northwest European sendout to fall by about 23 mcm/d w/w, to an average of 22 mcm/d.
As the week progresses, rising temperatures and higher w/w wind generation should start to ease aggregate gas demand across Northwest Europe. We forecast total demand for the week to average 1.2 bcm/d, about 90 mcm/d lower w/w but up by 90 mcm/d y/y.
The total European stockdraw was 5.3 bcm in the week through 9 February, 2 bcm more y/y, which narrowed the y/y storage overhang to 5.4 bcm. Withdrawals in Northwest Europe totalled 3.4 bcm, up by 1.5 bcm y/y and higher than the 2.84 bcm we forecast last week due to unscheduled supply outages, a drop in Russian supply, and colder-than-forecast weather. We forecast a stockdraw of almost 2.6 bcm in Northwest Europe this week, 0.5 bcm higher y/y.
Last week's steep 8% w/w reduction in prompt Cif ARA coal prices lowered the TTF fuel switch triggers. TTF price support levels were above 20 €/MWh at the end of January, but at Friday's close were at 18.4 €/MWh. The 18.1 €/MWh trigger, which had been providing downside support, has fallen to 16.5 €/MWh. A combination of higher pipeline outages and rising temperatures could well push prices, with the TTF D+1 on Monday trading just above the 18 €/MWh level, towards that lower trigger given the prompt is now at a higher relative fuel switch pricing level.
Supply-Demand outlook and storage forecast for NW Europe, mcm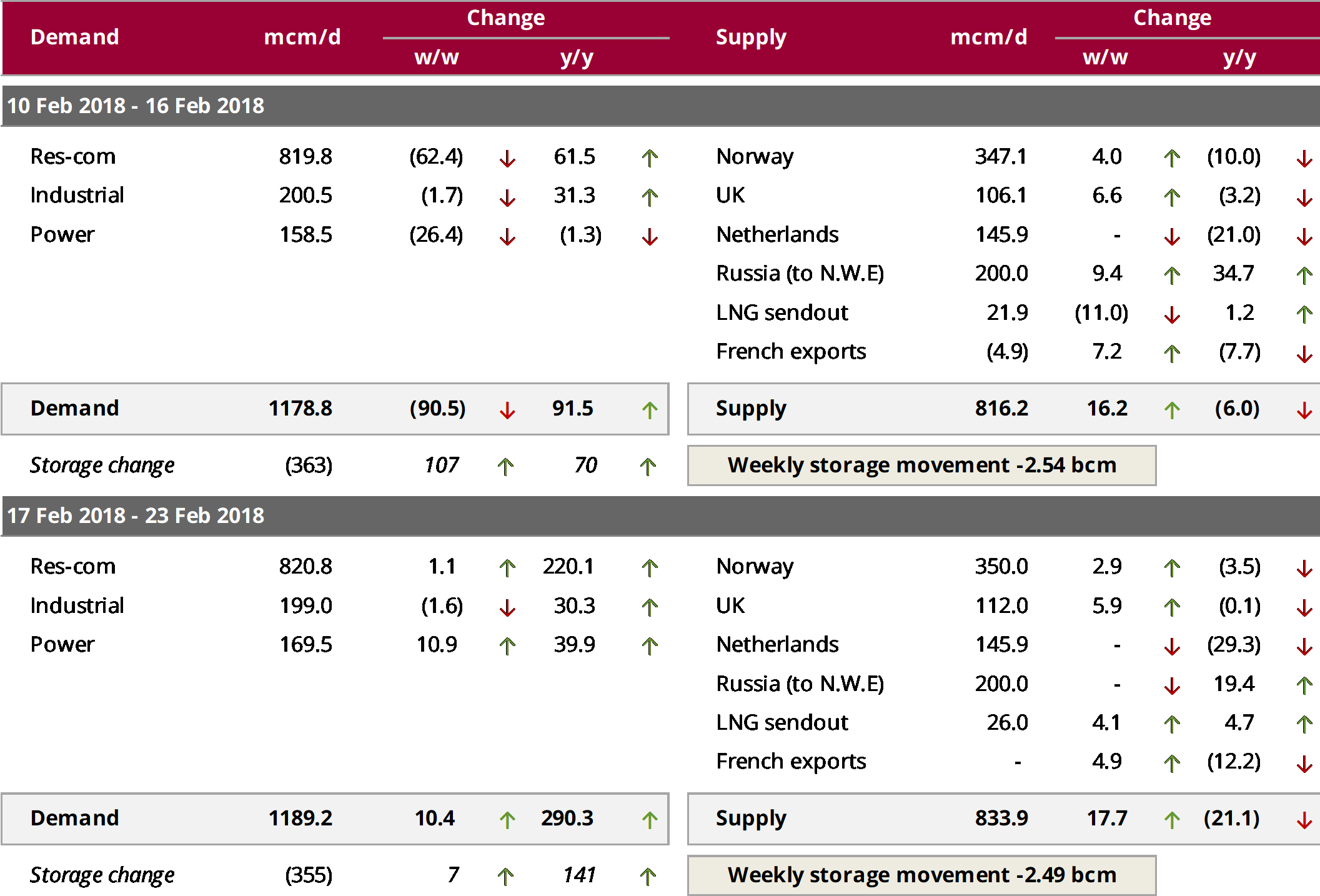 Source: Country SOs, GSE, Energy Aspects