Thursday's EIA report (week ended 3 Nov) – EA Final Estimate: +15 bcf
We forecast tomorrow's EIA report will show a 15 bcf injection, down significantly from last week's injection of 65 bcf. Though production averaged a record high of 75.2 bcf/d (up by 0.4 bcf/d w/w), demand climbed by 7.4 bcf/d w/w as the heating season began with strong res-com demand.
Res-com demand jumped by 8.0 bcf/d w/w, as gas-weighted heating degree days (GWHDDs) more than doubled w/w due to colder temperatures in the Midwest and Pacific. This was enough to boost total demand despite lower w/w figures in other consumption sectors—power burn fell by 1.2 bcf/d w/w, while maintenance at Sabine Pass curtailed LNG feedgas demand by 0.2 bcf/d w/w.
The continuing surge from Appalachia (+0.6 bcf/d w/w) drove the production side of the ledger and more than offset a 0.2 bcf/d w/w fall in net imports from Canada. That fall came due to a shutdown of the Fort McMahon gas plant on 2 November, even as WCSB production was flat w/w.
Next Thursday's report (week ending 10 Nov) – EA Estimate: -9 bcf
We forecast that the current week will see the first net withdrawal (9 bcf) of the winter, with colder weather the driver of a 4.0 bcf/d w/w rise in demand that will trump w/w output gains of 0.9 bcf/d.
Demand is set to increase across all sectors this week. Res-com demand is tracking a rise of 1.9 bcf/d w/w as GWHDDs tick up by 6% w/w. Power burn will edge up by 1.3 bcf/d w/w, more than erasing last week's decline. With maintenance at Sabine Pass finished LNG feedgas demand will rise by 0.2 bcf/d w/w, while pipeline exports to Mexico are also set to rise by 0.2 bcf/d w/w.
Production will rise to 76.1 bcf/d due to a new record for the Appalachia region (which will jump by another 0.9 bcf/d w/w to 26.7 bcf/d). New takeaway capacity is proving to be a boon to producers. The Adair Southwest and Access South pipelines entered partial service on 1 November, while the Rayne XPress project received FERC approval a day later. Taken together, these projects add 1.0 bcf/d of capacity in the Appalachia region, which should help lift production levels to further highs going forward.
Maintenance at storage facilities in California is causing swings in SoCal city-gate pricing. The Honor Rancho storage site entered the week undergoing maintenance, which restricted flows into and out of the facility to zero through 4 November. Near Los Angeles, the Playa del Rey facility began planned maintenance on 7 November which will last until mid-December. These issues add to an already tight SoCal market, which is dealing with the ongoing Needles point outage, and sent 7 November SoCal City-gate prices up by 27% to close at just under 3.87 $/mmbtu.
Fig 1: Regional flows and fundamentals model, bcf
Source: Energy Aspects
Fig 2: Balance forecasts, bcf/d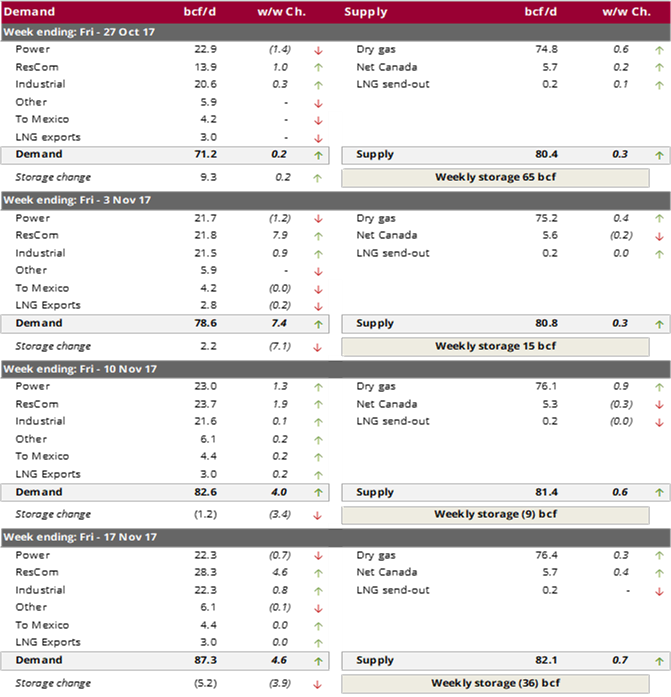 Source: Energy Aspects