Energy Aspects expects tomorrow's EIA storage number to be a 34 bcf injection. Our forecasts for the next three storage weeks are injections of: 51 bcf, 48 bcf, and 43 bcf. Our current forecast pins end-August levels at 3.19 tcf, lower than last year by 208 bcf.
Weather forecasts are pointing to a pocket of colder-than-normal air staying put over the central US over the next 5–10 days. The Eastern Seaboard is also expected to be cooler than normal over the next five days. None of this is encouraging news for power burn, with our balances pointing to burn falling by 3.2 bcf/d y/y in the current week (ending 11 August) to 33 bcf/d.
Utica production reached a record-high 4.8 bcf/d on 1 August, and production has been hovering around 4.7 bcf/d since. Utica output is consistently recording y/y growth of around 1.0 bcf/d. Marcellus is also recording y/y gains of around 1.0 bcf/d, as production continues to come in around 20 bcf/d, with w/w gains over the past month much more limited in the Utica.
In British Columbia (BC), the McMahon processing plant appears to be back to full service after its firm capacity was cut to 50% due to operational issues on 26 July. Also in BC, the Pine River Plant, which cut operational capacity to 30% on 28 July, increased capacity to 34% on 3 August until further notice. WCSB production has recovered to 14.1 bcf/d since 1 August, compared to a low 12.9 bcf/d on 13 July right before the McMahon plant returned from its first prolonged outage that began in early June.
Data point to US net imports from Canada averaging 5.8 bcf/d in the current week, higher by 0.1 bcf/d w/w and by 0.2 bcf/d y/y. Maintenance in Alberta on TransCanada's NGTL pipeline system began 7 August and is expected to run until 22 August. These works are unleashing fresh volatility at AECO, with prices at the hub sinking to 0.63 $/mmbtu on 7 August. Wide spreads to Henry over the past three weeks have helped boost Canadian flows to the US.
Gas flows into Sabine Pass for liquefaction have weakened slightly, averaging 2.0 bcf/d in the current week, compared with flows closer to 2.4 bcf/d at the end of July. This is likely due to storage levels filling closer to capacity at the facility. Mexican exports continue to hover around 4.3 bcf/d, higher y/y by 0.5 bcf/d y/y. Demand from exports (via LNG and to Mexico) and the industrial sector look set to rise by an average of 1.7 bcf/d y/y over the two-week period ending 25 August.
Given the one-two punch of recent production growth and less than supportive end-of-summer weather, another price hike above the-mid to high 2.80s ($/mmbtu) appears hard to justify. That said, the market seems to have already priced in a faster pace of injections for the remainder of the month.
Balance forecasts, bcf/d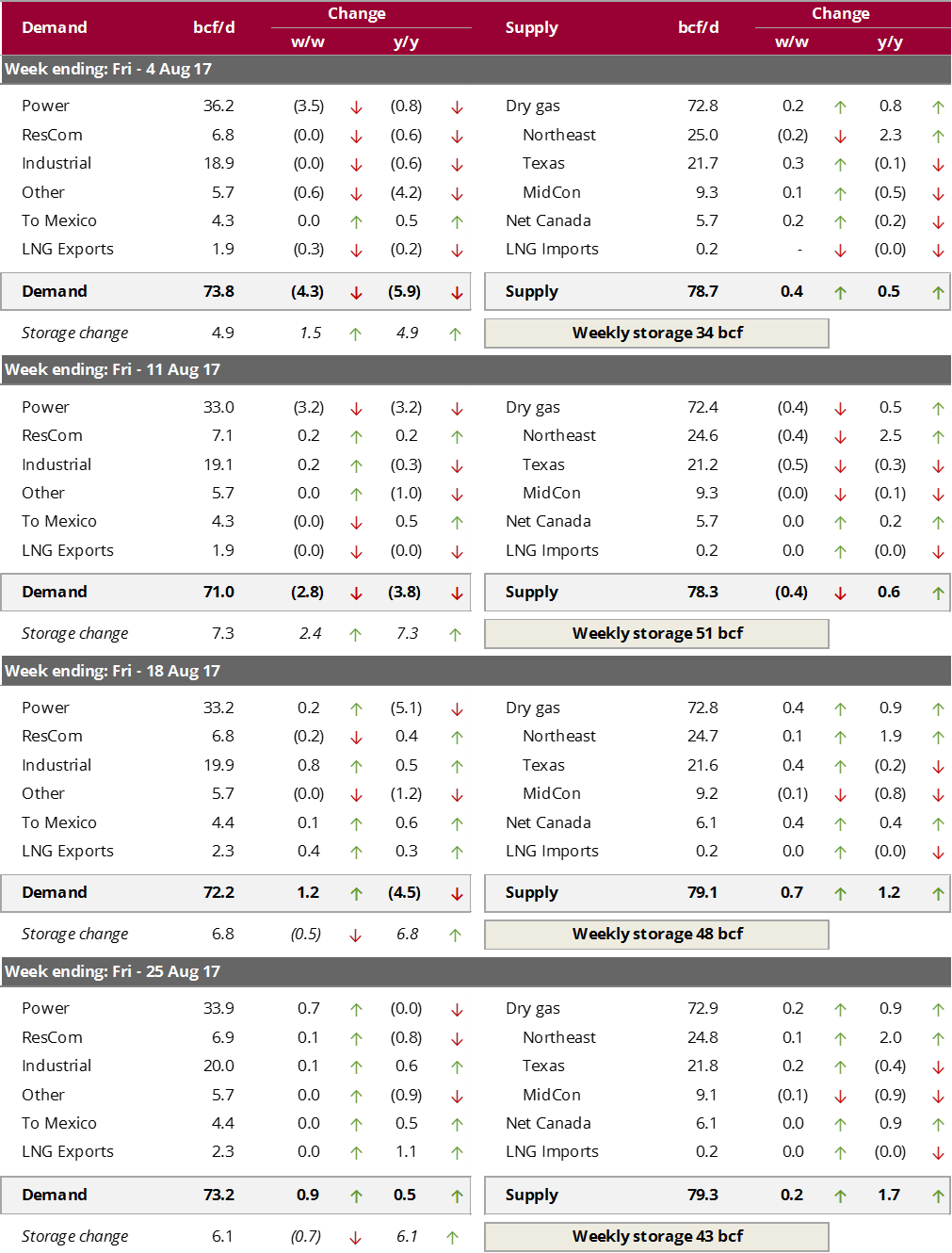 Source: Energy Aspects